Find All Your Boarding Information Here!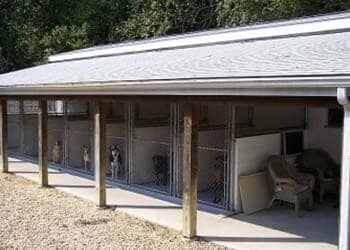 Here's Why Chesterfield Kennels Dog Boarding Will Be Your Pup's Favorite Place To Visit
The individual runs allow me to be totally hands-on with each and every pet from feeding to play time to lights out good night. From the moment they arrive until you return every guest is treated as if they were my own.
Does Your Dog Like To Run? We Have:
Fourteen (14) individual indoor/outdoor runs — two (2) are double size runs to accommodate the large breeds and/or multiple large dogs from the same household.
Boarding Hours & Information
Boarding By Appointment Only
Monday – Friday / Morning & Afternoon Check-in/out
Saturday A.M – Check-in/out until noon
Sunday P.M – Check out from 4 PM- 5 PM only (closed to the public during the day)
** Closed All Major Holidays for Drop Off & Pick-up Times**
Required Boarding Vaccinations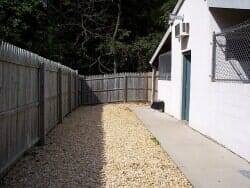 For the protection of your precious pet as well as all other guests in the kennel you must provide proof of:
DHLPP vaccination or titer
Rabies vaccination
Distemper
Bordetella (Kennel Cough)
Veterinarian prescribed flea and tick treatment
***You must supply a copy of the above shot records prior to or at the time of check-in. If you do not have proof of these shots, or if they are not up to date, your dog will not be permitted to stay in the kennel. There will be no exceptions.
Dog Boarding Rates (Subject to Change without notice)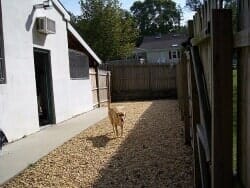 Over 100 pounds – $55.00 @ day
Under 100 pounds but over 40 pounds – $52.00 @ day
Under 40 pounds – $48.00 @ day
*prices do not include NJ State sales tax
Checkouts after 12 noon are considered an additional day.
Late/after hours checkouts subject to $100.00 surcharge.
Extended stay/long term rates available upon request.
Price includes playtime in 2 different enclosed play areas.
Discount for multiple dogs in one run. This discount cannot be combined with any other discount.
Note: There is a three (3) day minimum stay during summer months and all Holidays.
We offer a 10% discount to Military personnel with valid ID.
Extended stay/long term rates available upon request
Reservation Deposit: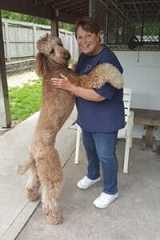 A two (2) day non-refundable deposit in the form of a money order is required to hold reservations. If the deposit is not received in a timely manner, the kennel cannot guarantee your reservation. If you cannot keep your reservation, please notify the kennel no less than 48 hours before your arrival time.
Cancellation Fee:
All cancellations require 48 hour notice to allow for re-booking of the run. If you do not give a 48 hour notice, you will be required to pay a two (2) day boarding fee per dog.
Food:
It is always recommended to bring your own food. Please allow for extra food and, if it is not in the original package, please print the name of the food on the bag/container along with your pets name. Please supply a lid for canned food with your pets name printed on the lid.
If your pet requires a food additive such as cooked rice, you must provide the cooked ingredient for us. If your pet does become ill and cooked chicken & rice are called for by your vet, you will be charged an additional amount at checkout depending on how many days these meals are required.
Medications:
If medications are provided and required, they will be given according to your instructions at $1.00 per dosage. If your dog requires medications provided by the kennel, you will be charged $2.00 per dosage.
If your pet requires a Vet visit, you will reimburse the kennel for all charges plus a time and transportation service charge. Have questions about our boarding policies or rates? Give us a call at (609) 723-4323.